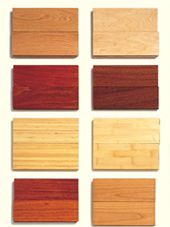 When it comes to options of floor stains and finishes Excellent Hardwood Flooring cannot lag behind others. For consumers who have specific color scheme in their minds can consult us the stain and we can assure staining on good quality hardwood flooring any color of choice. Browse through our gallery of stains to find out the wide selection of rich and elegant stains that are perfect for home floors and office floors.

WATER BASED FINISH
.Water based finishes dry faster than oil based finishes, is non-yellowing, and many are environmentally friendly. When using water based finish over stain, three coats of finish are applied
OIL BASED POLYURETHANE FINISH
Oil based finishes are considered more durable, many people use them in rental apartments and for high traffic areas. They have a stronger odor and are not allowed in many high rises or condo buildings, they also take about 24 hours to dry in between coats. Two coats of oil based finish are applied over stain.
Please feel free to speak to one our estimators to guide you about the cost of staining and find range of colors for your hardwood flooring.
Excellent Hardwood Flooring also has extensive experience of matching your favorite stains to the existing wood floors. However we don't take the liability of slight imperfection in match because the stain would be added on already an existing wood. That is why before we perform the task of staining on old wood floors we first try to show samples on how it would look. If you are satisfied with the stain texture we proceed with the work.