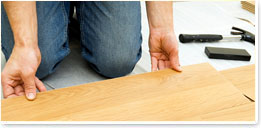 Service Page
Excellent Hardwood Flooring is an expertise in all types of hardwood floor installation, staining, refinishing, dust free sanding and repairs. Given below few brief descriptions of our services:

Hardwood Floor Installation
The installation of hardwood floor could be going over the existing floor to ripping your old carpet. There is no end to the product choices when it comes to floor installations. From traditional wood floors to broad dimensions engineering flooring products are available at Excellent Hardwood Flooring.


Staining
Excellent Hardwood Flooring also has extensive experience of matching your favorite stains to the existing wood floors. Browse through
our gallery of stains to find out the wide selection of rich and elegant stains that are perfect for home floors and office floors. Our professionals know the job perfect and can add extraordinary touch of aesthetic beauty to your floors.
Refinishing
Before refinishing, the old floor is rough sanded to remove the old finish and fillers. Our professionals take note of surface nailed floors and top nailed floors regarding the fillers and screen the floor properly before the first coat of finish is applied. And the successive coasts of refinish are applied by scrutinizing the texture and finish of the floors between coats. That is why we take nearly 4-5 days to complete the job of finishing.
Repairs
We at Excellent Hardwood Flooring also provide our services of repair to all those floors that have been damaged by water, chips, warping, dents, scratches, cracks and other such possible happenings. We utilize the latest techniques to bring back the charm of your hardwood floor like the original one.